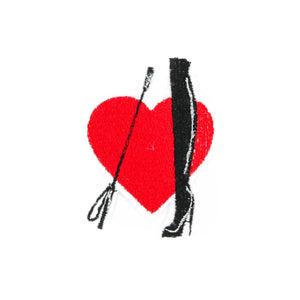 Project Pinup
Kinky Heart and Boots with Whip Iron on Embroidered Patch
Regular price
$6.00
$0.00
Kinky Heart and Boots with Whip Iron on Embroidered Patch Bring some flair to your life! Our patches are quick and easy to add to any piece of clothing or bag! All you have to do is iron the patch on.
This patch measures 2" w x 2.5" h
Iron-On Adhesive
High Quality Thread
Made in the USA by a small handmade business! Superb quality polyester thread makes the colors so vibrant and durable! Machine embroidered with the highest quality embroidery thread on felt. Iron adhesive has been applied to each patch prior to shipment. Sewing your patch is recommended for added durability with normal wear on clothing.
Instructions for applying your patch:
Pre-wash the item you would like to use your patch on. Cotton works best!
Pre-heat your iron to the cotton setting, but keep the steam setting off! Lay your garment on an ironing board, towel or a heat tolerant surface.
Place patch over the desired area, and with a heat tolerant cloth (not too thick!) or parchment paper, press firmly for 30 seconds. Do not move the iron! Only firmly press as moving motions will cause the patch to shift.
Turn your garment inside out and press for another 30-60 seconds.
Allow the garment to cool completely. We like to check if there is any spots we missed and repeat step 4.
(Optional, but highly recommended!) Sew along the edges of your patch with matching thread color for added stability!
We want you to be happy with all your purchases, but if you are not in love, here is what you can do:
Request a return or exchange by emailing us by replying to your order confirmation email. You MUST include your Order #. Carefully review our return policy below.
All return/exchange requests must be received within 14 days of the purchase date.
All items must be returned in their original, unworn, unwashed, unaltered, smoke-free, pet hair free condition
All original tags must be attached and the texted or emailed sales receipt.
Bloody Rose Boutique reserves the right to refuse any return that does not meet the aforementioned requirements.
Clothing returned not in compliance with our return/exchange policy will be refused or charged a $10 restock fee.
All Sale & Clearance items are FINAL SALE and cannot be returned or exchanged.
Un-exchangeable items:
PPE masks and face masks
Pins
Patches
Sunglasses
Swimwear/Bathing suits
Body suits
Undergarments
Any types jewelry
Belts
Makeup
False eyelashes
Nail polish
Socks
Slippers
Tights & Hosiery
Hair Accessories
Hair Dye
Hats
Music
DVDs
Stickers
Housewares
Incense
Candles
Shoes/Boots
*** Sale/Clearance Items Are Non Returnable / Exchangeable ***
What do I do if something breaks or is defective and it's after your return date?
Unfortunately we cannot accept the return or refund you after the return window is closed. (We're a small shop, not Amazon.)
We inspect all items for damage before they are sold or shipped to you. Sometimes a company makes a defective product and it's not noticeable for a while. Here's what to do if a product is defective.
Take photos of the defective product. Make sure that the defect is clear.
Contact the company that made the product and provide a very clear description of the product defect and ask if they can send you a replacement. Make sure to include the photos of the defect.
If you cannot find the company information, or if the company asks you to contact us, then contact us by replying to your order confirmation and provide a very clear description of the product defect. We will contact the company on your behalf and ask about the defective product policies and ask for a replacement.
---
Share this Product
---